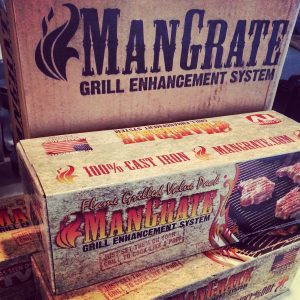 Our friends over at ManGrate.com sent us a few boxes of the increasingly popular ManGrate Grill Enhancement System. Justin at ManGrate.com asked  Steaknight Magazine if we were willing to give them a try. We have to admit we were not to sure about this product. We questioned why it would be necessary to put grilling grates on top of the ones that are already on the grill? Wouldn't they add distance from the heat and make the grill less effective?
The only way to find out was to give them a shot. We opened up the boxes and noticed first off, that they weigh a ton and that each box comes with its own ManGrate grill brush. That was a nice touch right off the bat. We followed the instructions that they came with and seasoned the grates. This was a quick simple process. All that needed to be done is oil the ManGrates up with some olive oil and turn the grill on high for a few miniutes. We were ready to cook. So, as the instructions said, lower the heat to medium and it's ready to go.
Right away we noticed that these cast iron grates get and stay super hot. And as every person who has ever grilled a steak knows, you need that high heat to get a good sear and to get those great looking grill marks.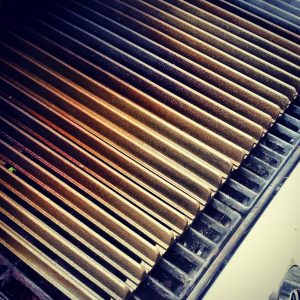 We decided to try something new with these new ManGrates. So before we heated up the grill we marinated a beautiful prime bone in ribeye with some basil pesto and used the Steaknight Magazine Signature rub on some thick sliced yellow squash.
As we start cooking we notice that flare ups were a non issue, the ManGrates really made a difference in that area. No need to move around the ribeye to put those flames out, no more burning the meat when the fat drips down. We also enjoyed the slick surface of the ManGrates, the squash didn't stick a bit and cooked nice and even leaving some great grilling marks. The Ribeye seared up beautifully and we noticed that it actually cooked faster than normal. You dont need us to tell you that the ManGrate did a good job,  just see for yourself below.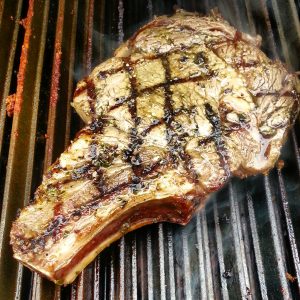 As far as flavor is concerned, we did notice an improvment. The meat was more juicy and had almost a smokey flavor that we have not noticed when using this grill before. It was like a steak tasted more like a steak, if that is even possible. Big flavor, no flare ups, faster cooking, no sticking… All we can say is WOW! We are so glad Justin asked us to check these out. To say we misjudged this product is an understatment. ManGrate has made Steaknight Magazine huge fans of their product. We can not wait to use them again. We will have to order a few more sets to try when we do a little charcoal grilling. These will not be coming off the grill ManGrate guys, especially if it keeps our steaks looking this good.