After this you will never buy roast beef at the deli counter again!
Ingredients:
• Top Sirloin Roast 5-8 lbs.
• 2 tablespoons Hoisin Sauce (optional)
Rub
• 1/4 cup Black Pepper
• 1/4 White Sugar
• 2 Tablespoons Smoked Paprika
• 2 Tablespoons Salt
• 3 Tablespoons Granulated Garlic
Glaze
• 1/2 Cup Bourbon
• 1 Cup Brown Sugar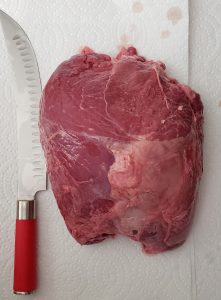 Directions:
Trim and score up your roast and prepare for rub mixture. You will not have to remove much as these should come almost ready to go. We cut in a crosshatch on the top to catch some extra rub.
Place prepared roast in a shallow baking dish, pat dry. Spread Hoisin all over your roast. In a bowl, combine rub ingredients and rub into meat covering all sides. Cover with plastic wrap and set in refrigerator for at least 1 hour. Remove from refrigerator and let meat get close to room temperature. You don't want to start cooking while cold. This will effect cooking time and tenderness of the meat.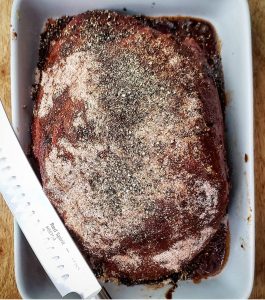 Prepare smoker/ grill with cherry wood, temperature should be about 250°F.  Cook until internal temperature of the roast reaches 127°F- 128°F. about 2.5 hours depending on grill temperature and meat weight. Temperature probe is your friend!
Once you see that your roast is getting close to done prepare your Bourbon and Brown Sugar glaze. In a small sauce pot combine Bourbon and Brown Sugar, cook over medium heat, stirring, until sugar is dissolved. Cool slightly.
Brush or spoon glaze over your roast and cook until your internal temperature reaches 129°F. Remove from grill and let rest under foil for 40 minutes allowing juices to redistribute. 
Once rested cut off a few slices and enjoy, or once cooled you can wrap tightly in plastic wrap and put your roast in the fridge. The next day slice thin and make some bomb roast beef sandwiches or throw your thin slices on a flat top to make cheese steaks. No matter how you have it this meat is going to be tender and delicious!