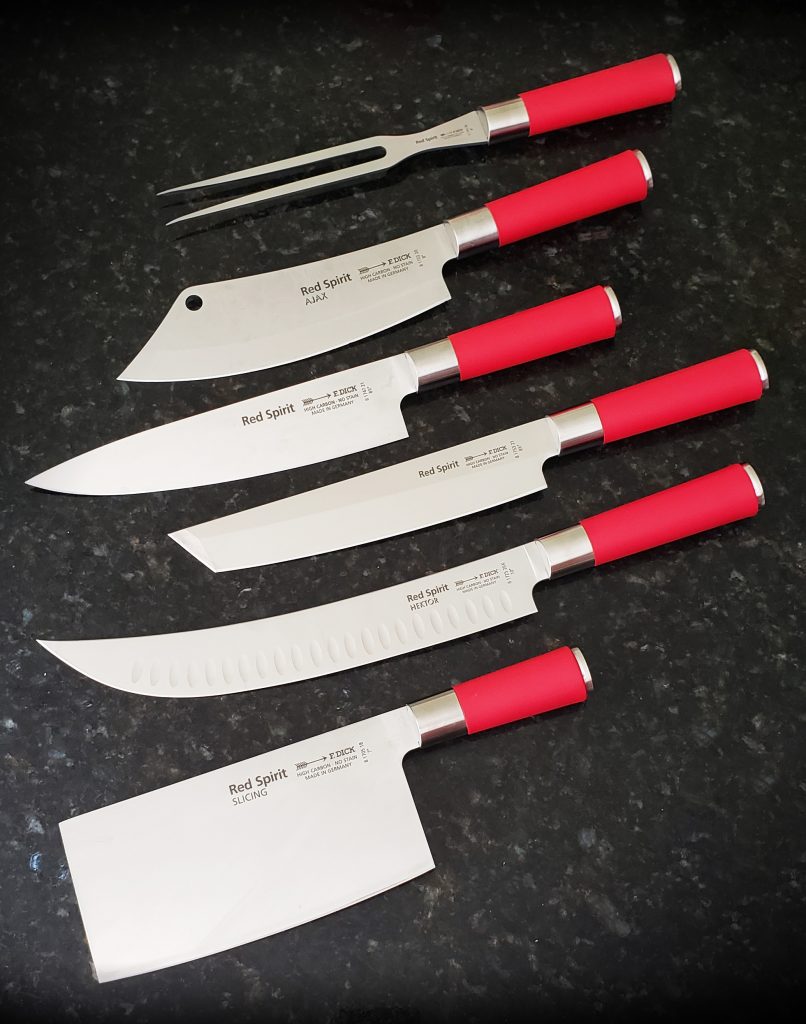 Steaknight Magazine has been faithfully using the F.Dick Red Spirit line of knives for quite some time now. Our friends over at Friedr. Dick sent us our first knife the Ajax and we instantly fell in love with the way it felt. We put this knife to the test as you probably have seen if you follow our instagram page. The knife stays sharp, razor sharp and is weighted perfectly, fitting beautifully in your hand.
The opportunity presented itself and we were able to get our hands on the other knives in the Red Spirit line. Not a single one of these knives dissapoint, they are all made with the same great professional quality as the Ajax. The F.Dick knives are not the clone junk that you see for sale out there, they are the real deal!
Since using the other knives we find ourselves reaching for the Hektor Cimeter more than we originally thought we would. This knife glides though steaks like brisket, ribeye or roasts like butter.
The work horse of the group is the 8.5″ Chefs knife, we use this just about every day, steeling with every third use. This knife feels great, cuts fantastically and never fails us.
When it is time to sharpen F. Dick has you covered with their Rapid Steel Action set. The F. Dick pull-thru knife sharpener, features heavy-duty microfine spring assisted sharpening rods. As your knife gets a little dull, you run the blade through the rods a couple of times to get your sharp edge back. The sharpener is made in Germany using all the highest quality materials.
The entire Red Spirit line is designed for uncompromising sharpness. The blades are ground slim and the cutting edge is polished. The knives are easy to guide and lead to a stunning exact cut. The round shaped, Asian style handle of the knife allows for comfortable grip, and extreme control. F. Dick is one of the world's largest, oldest, and most respected commercial knife manufacturers. And best of all they will not break the bank!
All F. Dick products are manufactured in Germany using only the highest quality materials.
Follow our friends at F. Dick USA on their Instagram page to see what's new and exciting. 
If you would like to purchase the F.Dick Red Spirit Knives please visit their U.S. retailer Mad Cow Cutlery and tell them Steaknight Magazine sent you!