Here at Steaknight Magazine we cook tons of steak. Cooking that much #deliciousness requires a lot of tools in our arsenal.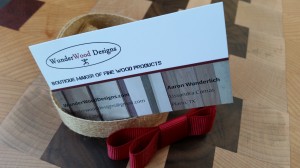 Recently Steaknight Magazine had the pleasure to cross paths with owners Aaron and Lissa owners of  Wunderwood designs out of Plano, Texas. Wunderwood Designs is a new up and coming woodworking company that specializes in creating beautifully hand crafted cutting boards, butcher blocks, Trivets, Magnet Boards, and other fine hand made products. Their quality and stunning craftsmanship is what initially caught our attention.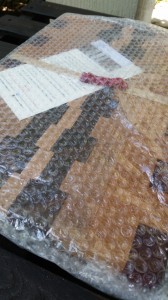 Once we finally got our hands on a Wunderwood Board we immediately knew that their photos didn't lie. Upon opening the box you get hit with that fresh leathery scent of newly crafted wood. We removed the protected peice and untied the handsome bow, it was clear we were about to see something wunderful… The board we received is named on the Wunderwood site as "Multiple wood block with handles." It is 18″ x 12″ 1.5″ thick and made up of 4 different beautiful woods; mahogany, walnut, maple, and beech. It comes complete with 4 large rubber feet to prevent the board from slipping when you're working quickly. Now we no longer need to put that damp towel under our board.  The End grain orientation provides a more stable, durable cutting surface which allows you to go longer in between sharpening your knives. Which is great for us as we go through a number of steaks when we grill. Wunderwood boards are finished with organic food safe beeswax and you can purchase more of that from them here to keep your board in top shape. It also puts a charming finish on this already marvelous peice.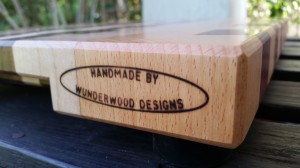 As we hold the board in our hands you immediately feel the love, care and talent that went into its creation. Our Wunderwood board is not overly bulky and light enough to bring to the grill or table without difficulty. You can tell that the work on their peices are never rushed or thrown together like a mass produced product. All the edges are sanded and finished perfectly. It really is a visually stunning product.
We wanted to use our Wunderwood Board for a little while to see how it holds up to the Steaknight Magazine abuse. I have to be honest it really hurt to have to actually use it. But after a number of our steaks hit that board I am thrilled to say it looks just as good now as when it came out of the box. The Wunderwood products are meant to be used not just admired, we are going to continue to put our board through its paces.
We are finding one problem with Wunderwood boards… stopping ourselves from buying every one of their options in their inventory. With a number of products to choose from and the option of custom orders we may just go broke buying them all.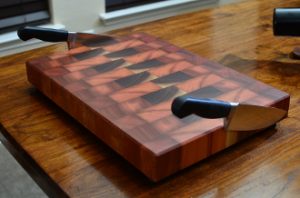 Next on our list will be the "End Grain Block with Magnets on Two Edges." What a fantastic idea this is, embeding the strong rare earth magnets right into the block. Now you don't have to leave your knife on the counter top or in your way on the board, just slap it to the side where it is available and waiting for you when your ready to use it again. This option will really speed us up, can't wait to get our hands on that one.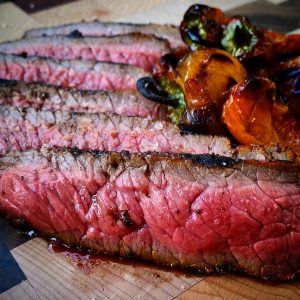 For us the board is the blank canvas and one of the most important tools to help us display our tasty dishes. Our new tool has inspired us and sparked a new found creativity. Look for our new Wunderwood board in our upcoming @steaknightmagazine instagram posts.
We know that you're going to love the Wunderwood line up of U.S. made products. Look over the Wunderwood site and find out for yourself what we are blabbing about. Be sure to take a look at them behind the scenes on their social media pages: Instagram –  Facebook give them a quick follow, you'll be glad you did!