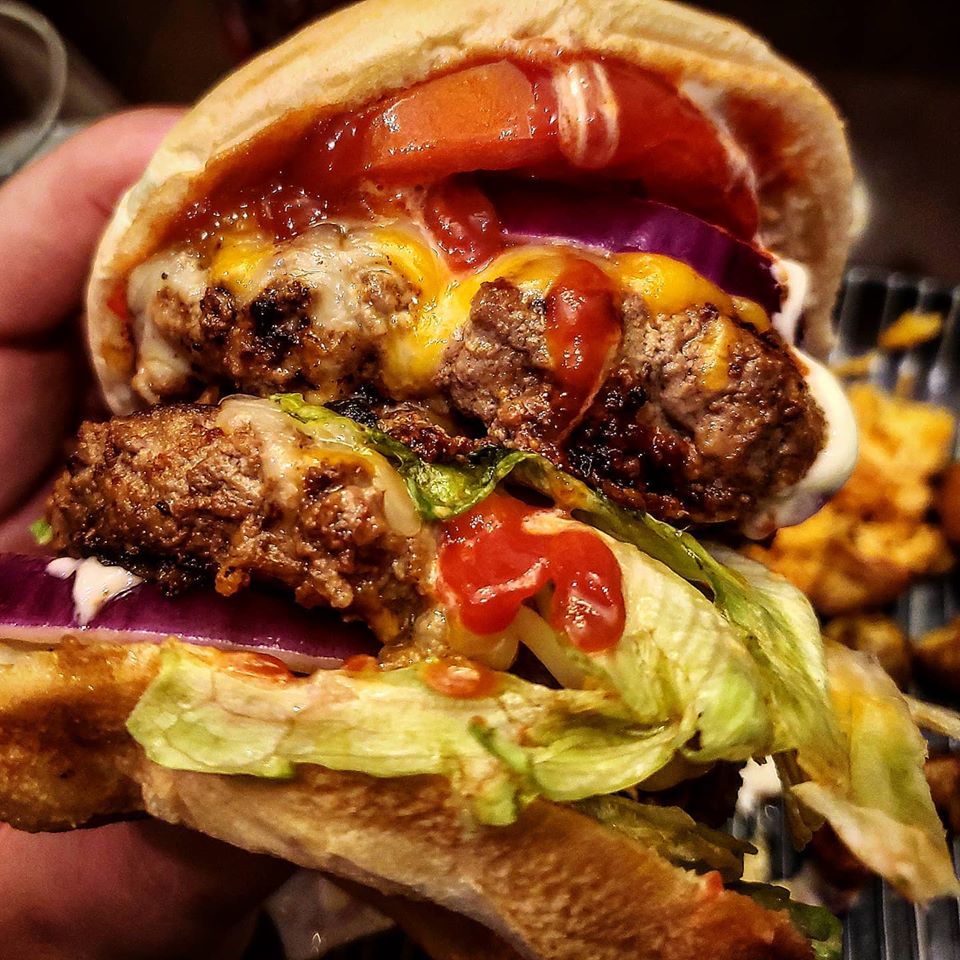 The hamburger is a symbol of everything that makes America great. Straightforward, substantial, and good-natured, it is also a little bloody at times.
It may come big and ungarnished, the East Coast ideal, tender and untroubled by bones or gristle, everything you look for in a filet mignon but seldom find. It may be the West Coast model, swelling with vegetation, brimming with health and well-being, piled high with all that a seed catalog can provide. A great burger, regardless of regional differences, instills a sense of optimism and fulfillment, that all is right at the table or the counter or the woodgrain, screwed-to-the-floor, fast-food booth.
At its best, it eliminates the need for conversation or the urge to glance up at the TV over the bar. If you find yourself eating silently, eyes closed, ignoring everything around you, even the unavoidable burger-joint din, you have come upon a burger that can be pronounced a success.
20. Hamburger Sandwich
Louis' Lunch
New Haven, CT
19. Our Famous Burger
Sidetrack Bar and Grill
Ypsilanti, MI
18. Hamburger
Poag Mahone's Carvery and Ale House
Chicago
17. Double Bacon Deluxe with Cheese
Red Mill Burgers
Seattle
16. Hamburger & Fries
Burger Joint
San Francisco
15. Build Your Own Burger
The Counter
Santa Monica
14. Hamburger
J. G. Melon
New York City
13. Cheeseburger
White Manna
Hackensack, NJ
12. Hamburger
Bobcat Bite
Sante Fe
11. Grilled Bistro Burger
Bistro Don Giovanni
Napa, CA
10. Number Five
Keller's Drive-in
Dallas
9. Cheeseburger
Burger Joint, le Parker Meridien Hotel
New York City
8. Hamburger
Miller's Bar
Dearborn, MI
7. Buckhorn Burger
Buckhorn
San Antonio, NM
6. California Burger
Houston's
Santa Monica
5. Kobe Sliders
Barclay Prime
Philadelphia
4. Rouge Burger
Rouge
Philadelphia
3. Not Just a Burger
Spiced Pear Restaurant at the Chanler Hotel
Newport, RI
2. Luger Burger
Peter Luger Steak House
Brooklyn
1. Sirloin Burger
Le Tub
Hollywood, FL
WHAT IS YOUR FAVORITE BURGER PLACE??