Are you looking for a great dish to bring to your next celebration? Make this and trust us you will be a star. Great side dish or party salsa! Try the #steaknightmagazine Roasted FireCRACKer Corn Salsa.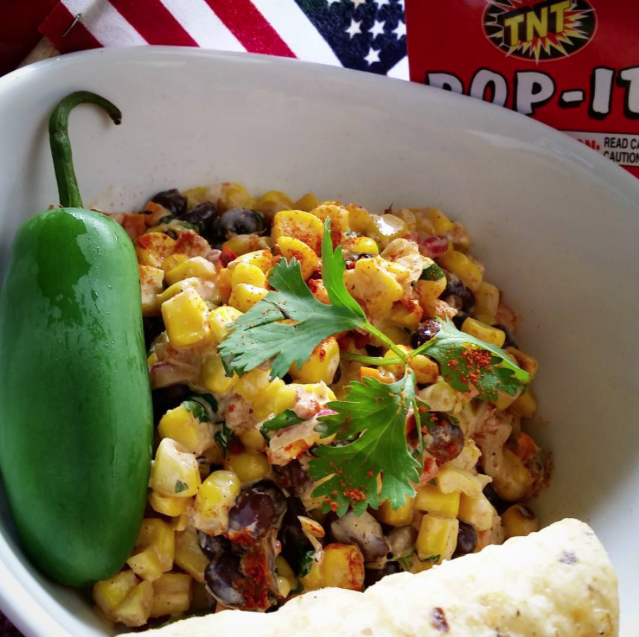 Ingredients:
5 ears corn (#grilled)
1 15.5 Oz can black beans
1 cup fresh cilantro
1/2 red onion
3 oz. #chipotle peppers in adobo chopped
1/3 cup mayonnaise
3 tablespoons sour cream
1 tablespoon white vinegar
1/4 cup white vinegar
2 limes juiced
1 red bell pepper
1 packet Goya sazon
1 teaspoon cayenne pepper
1/2 teaspoon chili powder
1 teaspoon garlic powder
1 teaspoon onion powder
Salt and pepper to taste
Mix together 1/4 cup vinegar with 1 tablespoon of white sugar. Stir until sugar has dissolved. Dice red onion and add to sugar, vinegar. Stir and let sit for 20 mins.
Cut corn off the cobs into a large bowl. Rinse and add black beans to corn along with diced red bell pepper and red onions (drained from vinegar). Add lime juice, chopped cilantro and all dry ingredients, mix well.
In a separate bowl mix sour cream, chopped chipotle peppers, mayo and 1 tablespoon vinegar. Mix until combined. Add to to bowl and mix well. Refrigerate until chilled.
Slowly place bowl on table with your favorite tortilla chips and run away so you don't get trampled by the stampede of hungry guests. Oh and get in the kitchen to start all over again cause it's probably gone already. Sorry