We asked our instagram fans to share their delicious steak recipes with us. Ask and you shall receive. Quinot @qmatthee has provided us with an unbelievable looking recipe for some delicious thick cut Baseball Sirloins. Thank you Quinot for following #steaknightmagazine and sharing our passion for a great steak.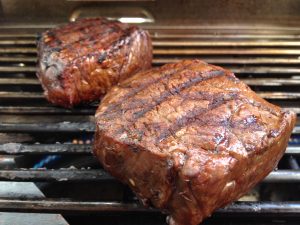 What is a Baseball Sirloin? A baseball cut steak is the upper part of a top sirloin steak. It is a rounded piece of meat at least two inches thick. The meat fills out slightly as it cooks, which enhances its ball-like appearance.
A baseball cut steak has less fat than many other cuts, but, if well-cooked, it is flavorful and not dry. The baseball cut resembles the more expensive tenderloin fillet and is a fine replacement for the higher-end meat when large quantities are needed, such as at banquets.
Now on with the #deliciousness!
Quinot's Portuguese Teriyaki Barbecued Baseball Sirloin Served Over Polenta Crostini Topped With Grilled Garlic Lemon Prawns
Marinade
• 1/2 cup soy sauce
• 1/4 cup brown sugar
• 1 1/2 tsp fresh ginger, minced
• 1 tbs honey
• 1 tsp honey
• 1/4 cup water mixed with 3 tsp cornstarch
Place steaks in an air tight container and pour mixture over your steaks, marinate overnight.
Pre-heat your grill to 400 to 450 F, get a good seer on both sides, and then grill four minutes per side for medium rare.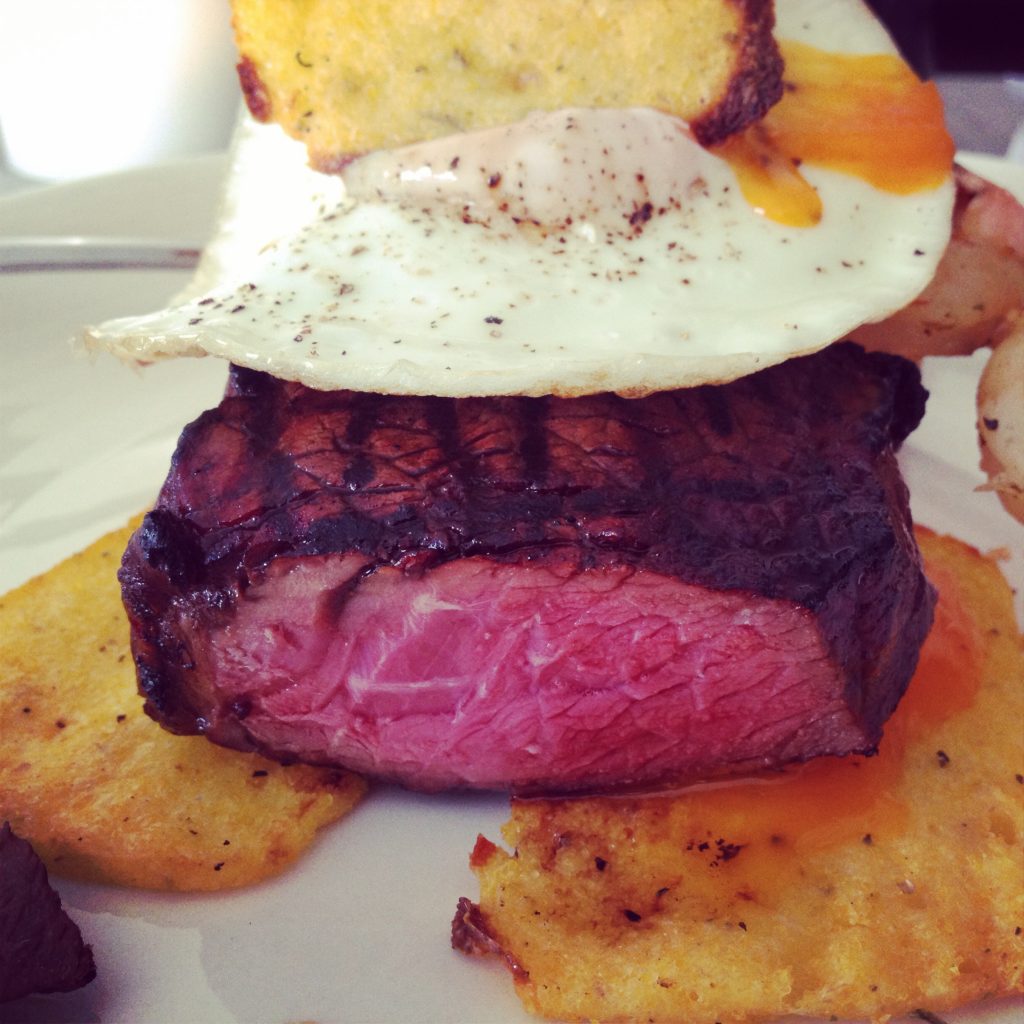 Prawn
Ingredients
• 10 large prawns, tail removed and deveined
• Juice of 1 lemon
• 1 garlic clove pressed
Skewer prawns and marinate in a lemon garlic mixture for 15- 20 miniutes
Grill prawns two minutes per side while steak is resting.
Polenta Crostini
Ingredients
• 1 cup cornmeal
• 3 cups water
• 1 cup cream
• 1/4 table spoon nutmeg
• 1 cup parmesan reggiano
Bring water, cream and nutmeg to boil. Gradually mix in the cornmeal stirring continuously as you add. Bring to med temperature and cook for 5 min. Reduce heat to low and cook for another 5 min. Remove from heat, stir in parmesan, add salt and pepper to taste.
Let cool, and transfer mixture to a loaf pan, and refrigerate for 4 hours. Slice thin slices and bake at 375 F for 10 min and broil afterwards until golden.
Assemble your plate by placing your Polenta Crostini down first, Place your grilled sirloin and top with a fried egg, then add your skewered skrimp.
Wine Pairing: Shiraz or Malbec
The ripe fruit flavors in the wine match the sauce's sweetness, the oak influence in the wine complements the smoky, grilled flavors, and the full body helps it stand up to teriyaki steak's intense flavor.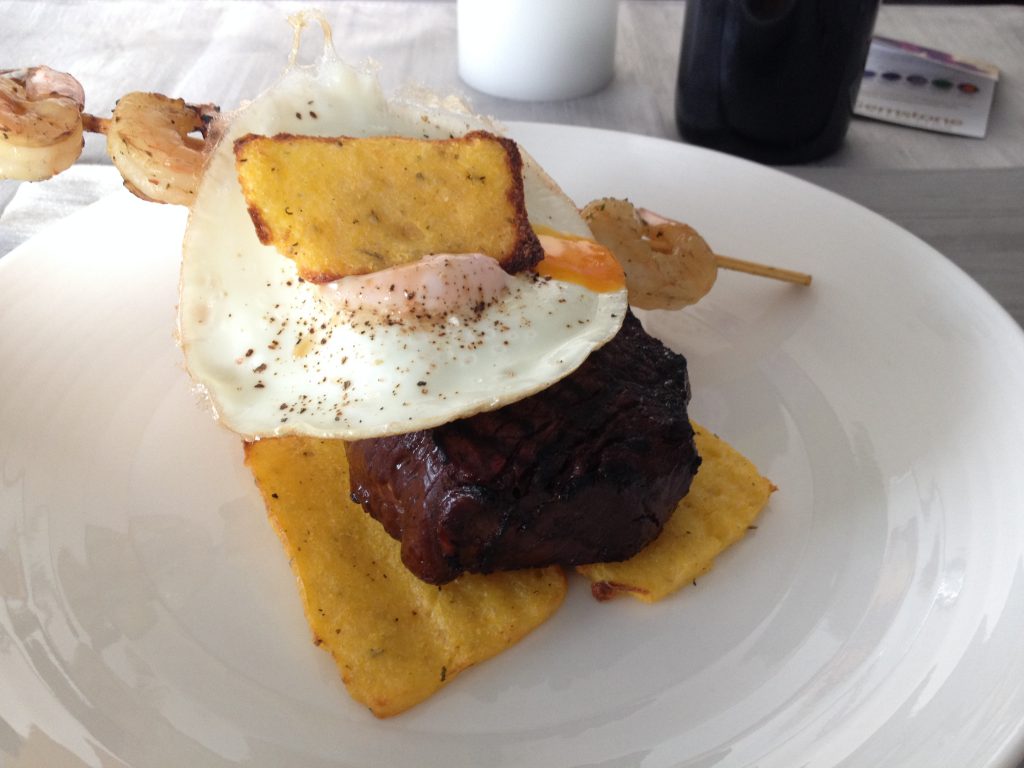 If you would like for Steaknight Magazine to feature one of your unique steak recipes, share it with us. Send it to info@steaknightmagazine.com Be sure to include your photos.
Follow us on Instagram @steaknightmagazine
Follow us on Facebook @steaknightmagazine
Follow us on Twitter @steaknightmag