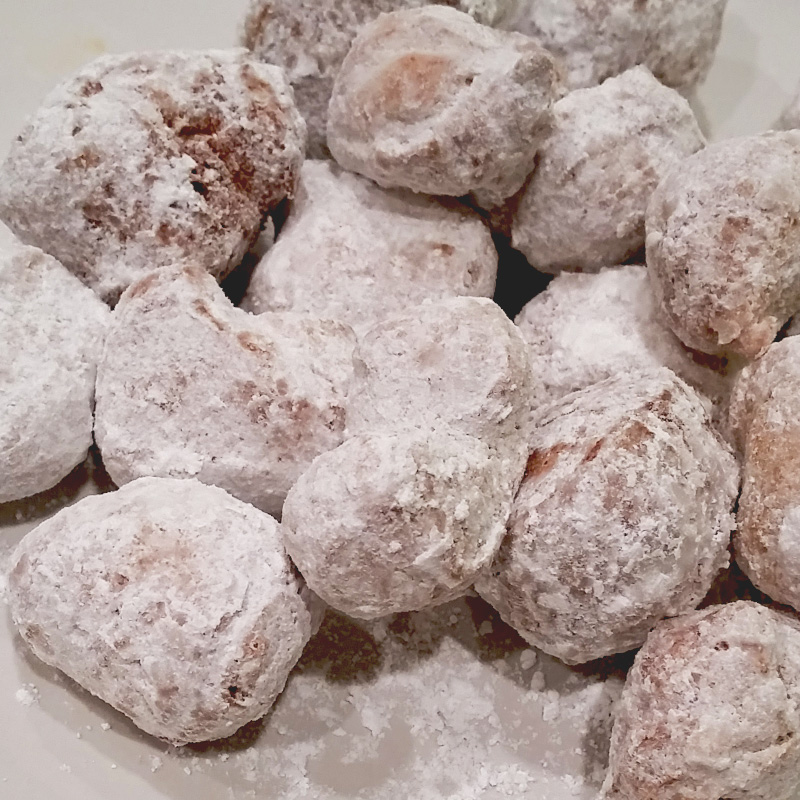 When you make some pizza dough be sure to save enough for fresh home made #zeppoles.
All you have to do is cut your prepared dough into 1 1/2 x 1 1/2 inch pieces. Heat some oil, drop 6 pieces of dough at a time (according to the size pan). Cook till golden brown then toss with powdered sugar in a brown paper bag or Tupperware.
Here is a delicious Steaknight Magazine dough recipe for you that can be used for tasty zeppoles or for making your favorite pizza, stromboli's, or calzone's.
Ingredients:
• 4 to 4 1/4 cups bread flour, plus more for rolling (bread flour will give you a much crisper crust. You can substitute with all-purpose flour, this will give you a chewier crust.)
• 1 teaspoon sugar
• 2 teaspoons molasses
• 1 envelope instant dry yeast
• 2 teaspoons kosher salt
• 1 1/2 cups water, 110 degrees F
• 2 tablespoons olive oil, plus 2 teaspoons
Using a thermometer measure out 1 1/2 cups water and heat to 110 degrees. Add sugar, molasses and 1 envelope of instant dry yeast. Stir to combine and let sit until you see the water start to foam. (If you dont see any bubbles you may wont to start over with some a new packet of yeast.)
Combine the bread flour and kosher salt in a mixing bowl of a stand mixer and combine. While the mixer is running, add 2 tablespoons of the oil and your yeast, water, sugar and molasses mixture. Beat until the dough forms into a ball. If the dough is sticky, add additional flour, 1 tablespoon at a time, until the dough comes together in a solid ball. If the dough is too dry, add additional water, 1 tablespoon at a time. Scrape the dough onto a lightly floured surface and gently knead into a smooth, firm ball.
Grease a large bowl with the remaining 2 teaspoons olive oil, add the dough, cover the bowl with plastic wrap or a damp towel and put it in a warm area to let it double in size, about 1 hour. Turn the dough out onto a floured surface and divide it into 2 equal pieces. Cover each with a clean kitchen towel or plastic wrap and let them rest for 10 minutes. This will make two 14 inch pizzas or about 60 zeppolies now thats a delicious party!!