Nothing makes us happier then when our fans get involved with Steaknight Magazine. After all, that's what this whole thing is all about. In just 1 year the @steaknightmagazine instagram page has grown significantly and that is thanks to all of you great fans out there. Keep sharing our page and we promise you will start to see big things from us. Keep your eye on us for contests, giveaways and upcoming new Steaknight Magazine products.
Here is a fantastic London Broil recipe from one of our instagram fans J.C. You can find some of his tasty dishes on instagram @popkoppy be sure to check him out. A big thank you goes out to J.C. for being such a dedicated fan!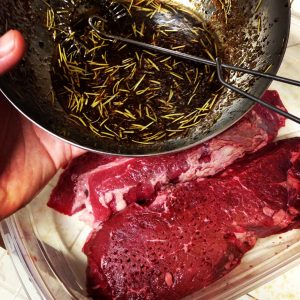 J.C. Koppy Balsamic Broiled London Broil
Ingredients:
• 1 cup balsamic vinegar
• 4 tablespoons olive oil
• 2 tablespoon of honey
• 2 tablespoons crushed (mixes more evenly with marinate and can be bought in a jar) or finely minced fresh garlic
• 2 tablespoons rosemary (fresh is better, but dry is fine)
• 1 tablespoon pineapple sage (hard to find; recipe can be done without it but it tastes better with it)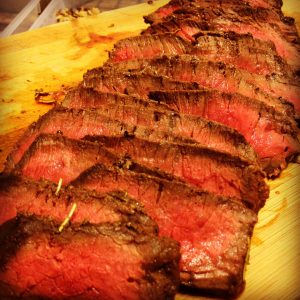 Whisk all ingredients in a bowl. Take 3-4 lb of trimmed London broil and poke holes all over both sides of the meat. Place meat smothered in the marinate in a container and refrigerate for at least 3 hours, but preferably over night.
Preheat broiler for 10 minutes with broiler pan in broiler. Take London broil out of the marinate and season both sides with fresh ground pepper and salt (I prefer sea salt or kosher salt). Take hot pan out (be careful) place meat on pan and place in the broiler. Broil 6 minutes, flip the meat and broil for 6 minutes more (for 3-4 lb London broil; medium rare) remove and cover loosely with foil and allow it to rest for 10 minutes. Slice meat thinly and feel free to drizzle juices in the broiler pan on it before serving!
If you would like for Steaknight Magazine to feature one of your unique steak recipes, share it with us. Send it to info@steaknightmagazine.com Be sure to include your photos.
Follow us on Instagram @steaknightmagazine
Follow us on Facebook @steaknightmagazine
Follow us on Twitter @steaknightmag