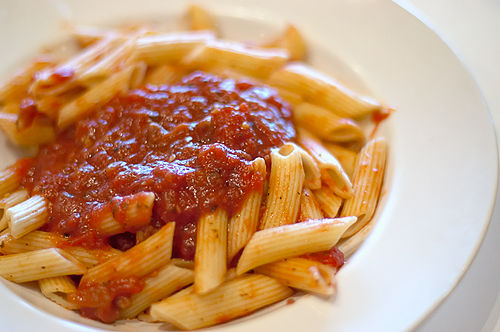 Another Italian pasta sauce for you to enjoy. Again we know this is not a steak recipe, but it is a meat sauce. We hope you enjoy.
Looking for a tasty, rustic, belly warming plate of pasta? Try this hearty Tuscan Meat Sauce.
Ingredients
4 oz Ground beef
4 oz Prosciutto
2 Carrots
2 Celery stalks
1 Red onion
2 Garlic cloves
10 Italian parsley leaves
4 TBS extra virgin olive oil
4 TSP butter
1 Cup red wine
1/2 Cup chicken broth
4 TBS tomato paste
1 lb. Penne
Directions
Chop the carrots, celery, onion, garlic, and parsley and saute them in the butter and olive oil for 10 minutes in a dutch oven or other large, heavy pot.
Add the ground beef and prosciutto (in small pieces) cook for 15 minutes. The heat initially should be high enough to cook the beef then dial the heat back to a simmer.
Pour in the wine and simmer for 15 minutes. Pour yourself a glass of wine while your at it! 🙂
Add the tomato paste and the chicken broth and simmer for 35 minutes. You will want to dissolve the tomato paste in the chicken broth before adding them to the meat sauce. Add more chicken broth during this phase of the cooking process if the sauce seems too dry.
Cook your Penne according to package directions, just short of al dente. When the penne is ready, turn the heat off the meat sauce and stir in the drained pasta. Let the penne and the meat sauce commingle for at least 5 minutes so that the penne can absorb the liquid and flavor of the sauce.
Top with with parmesan cheese and some fresh parsley.
Notes
Carrots, celery and onion should be chopped, not minced. This is supposed to be a rustic, peasant dish.
Feel free to use more than 4 oz of ground beef if you prefer a thicker sauce.
As always please leave a comment below to let us know what you think of it.