Grilled Watermelon Goat Cheese Stack
Yes, we grill watermelon too. We know #itsnotasteak but this #deliciousness is a great starter for any #steaknight.
Ingredients: (serves 3)
• 6 – 1 to 2 inch thick square slices, seedless watermelon (rind removed, be sure squares are all similar sizes.
• Salt
• Black Pepper
• 1/4 Cup Extra Virgin Olive Oil
• 6 Cups Baby Arugula
• 1/4 Cup Lime Juice
• 1/4 Cup Lemon Juice
• 1 Tablespoon Honey
• 1 Cup Crumbled Goat Cheese
• 1/4 Cup Balsamic Vinegar Reduction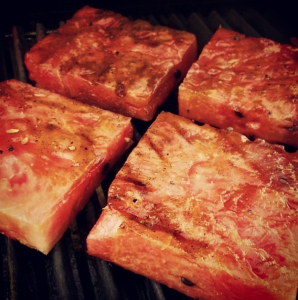 Cut 6 slices of seedless watermelon. (2 slices per person) Be sure all squares are uniform. Season watermelon with salt and pepper and then drizzle with extra virgin olive oil.
Heat grill so that it reaches a hot 500+ degrees. (It is important that the grill is very hot and that your watermelon slices are well oiled before placing them on the grill.) Place and grill slices about 2 mins per side.
Once watermelon is grilled, lightly dress baby arugula greens (or any spicy greens). Dress with lime juice, lemon juice, honey, salt, pepper and whisk in extra virgin olive oil making a vinegarette. (do not dress your greens to far in advance as they tend to wilt quickly.
Place greens on your plate, then begin to stack your warm watermelon. Add crumbled goat cheese then drizzle with balsamic reduction.
Enjoy!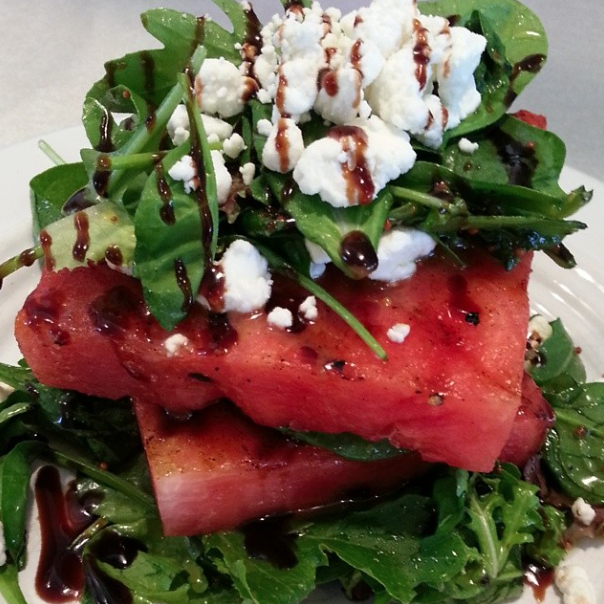 If you would like for Steaknight Magazine to feature one of your unique steak recipes, share it with us. Send it to info@steaknightmagazine.com Be sure to include your photos.
Follow us on Instagram @steaknightmagazine
Follow us on Facebook @steaknightmagazine
Follow us on Twitter @steaknightmag