Cuban cooks often add dynamic flavor to meat with a combination of garlic and citrus juice. Here, that combination is further highlighted by a quickly made salsa combining zesty and pungent flavors.
Serves 4 people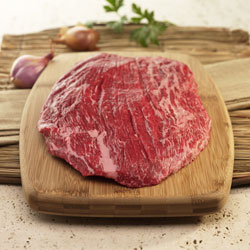 Indgredients:
4 flank steaks (5-6 ounces each)
4 garlic cloves, peeled
1/2 cup of orange juice
1/4 cup lemon juice
2 tablespoons of olive oil
Orange-Onion Salsa
2 large, sweet oranges
1/2 red onion, thinly sliced
2 tablespoons finely chopped fresh cilantro
Salt
Black Pepper
Preheat your grill.
Prepare your flank steaks. Trim any excess fat or connective tissue from them. One at a time, place each steak between two sheets of waxed paper and pound with a meat tenderizer until they are flattened to a thickness of about 1/2 inch.
Press the garlic cloves through a garlic press and put into a large, shallow dish. Add the orange and lemon juices and olive oil and stir well. Add the steaks, turning them in the marinade to coat them. Marinate steaks at room temperature  1 hour.
To prepare the Orange-Onion Salsa, segment the oranges. Using a sharp knife, first cut off the peel at the top and bottom of each orange, cutting thickly enough to remove the outer membrane of the orange segments as well. Then stand each orange on a cut end and cut off the peel in strips the same way. Holding the peeled orange over a bowl to catch the juices, free each segment by cutting between it and the membranes on either side: cut the freed segment crosswise in half and let the halves drop into the bowl. Add the sliced onion and cilantro, toss well. Season with salt and pepper to taste. 
Remove flank steaks from their marinade, pat them dry, and season them with salt and pepper to taste.. Place the steaks on the grill and cook, turning once, until they reach your desired temperature. 8 to 10 minutes at medium-high heat for medium rare. Serve steaks with the Orange-Onion Salsa along side of the meat.