The garlic and basil combination packs some intense flavor. We thought why not try to infuse that into a delicious steak. Pesto has a lot of great uses but used as a maranade is our favorite. First let's make that simple pesto.
Basil Pesto
Makes 1 Cup
INGREDIENTS:
2 cups packed fresh basil leaves
2 cloves garlic
1/4 cup pine nuts (or almonds if you rather)
2/3 cup extra-virgin olive oil
Kosher salt and freshly ground black pepper, to taste
1/2 cup freshly grated Parmesan cheese
DIRECTIONS:
Combine the basil, garlic, and pine nuts in a food processor and pulse until coarsely chopped. Add oil and process until fully incorporated and smooth. Season with salt and pepper.
If freezing, transfer to an airtight container or in an ice cube tray for individual portions. Freeze for up to 3 months. Thaw when ready for use.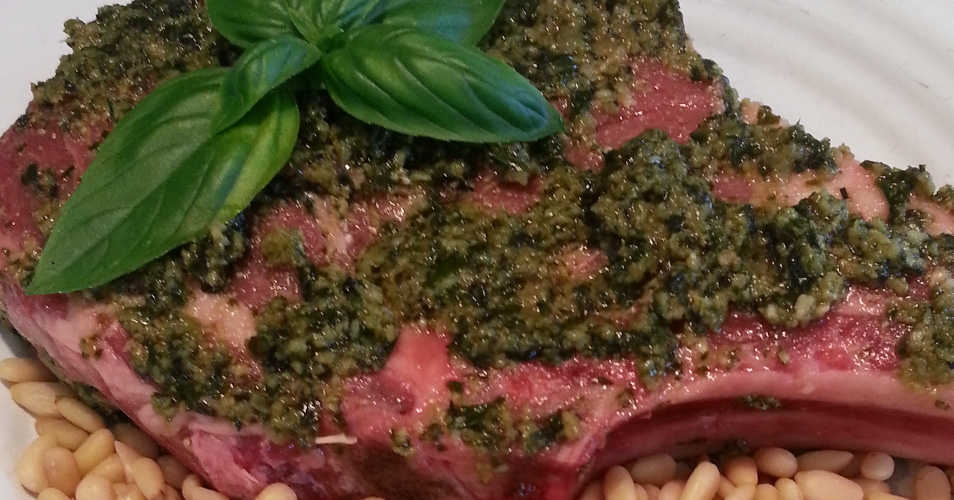 Once you have your pesto ready to go all that's left to do is marinate your steak. Place your steak(s) into an air tight contaner or bag and cover with pesto. 1 cup is enough for 2 steaks. (Be sure to save a little pesto for the end.) Add another 1/4 cup of olive oil into the bag or contanier, be sure the entire steak is coated.
Let the steak(s) marinate 1 to 2 days in the refridgator to be sure to infuse as much flavor as possible.
Remove bag from refridgator and *allow meat to come to room tempature (about 2 hours). This will assure the steaks tenderness.  Grill your steak on a hot grill about 5 mins per side, depending on the size. (2 1/2 minutes then quarter turn, another 2 1/2 minutes then flip and repeat.) Internal tempature should be 129° Fahrenheit or 53.8° Celsius for medium rare. If you are not at that point at the 5 miniute mark, move the steak to the coolest side of the grill and cover until you reach 129° F or 53.8° C. Be sure to flip every 2 mins for even cooking.
Once you have reached your desired internal tempature remove the steak(s) from the grill. Now you have to let that meat rest for 5 minutes to make sure all the juices are retained. Cutting straight away will cause your steak to become dry.
When you're ready to slice look for the grain of the meat and cut against the grain, again to assure tenderness.
Once sliced, spoon over your reserved pesto and serve.
*Say you want a steak to be served medium rare, about 129°F. If your fridge is 38°F, then the meat must climb 91°F. But if it is room temp, 72°F, then it needs to climb only 57°F. It will cook faster and there will be less overcooked meat just below the surface.