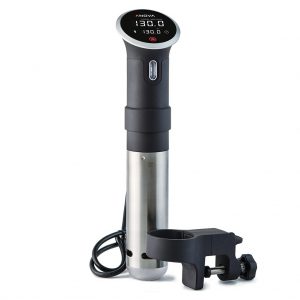 We are so thrilled to present our loyal Steaknight Magazine™ fans with our very first contest.
It took us a while to get this underway because our fans deserve the best and we wanted to do it big! Steaknight Magazine has teamed up with Anova Culinary to provide the winner with a bad ass bluetooth Anova Precision Cooker. It just happens to be one of our new favorite tools in the Steaknight Magazine kitchen. Now is your chance to win one of your very own!
The contest is simple, ready…….. Enter your name and email in the form above and enter. One more thing….. you must be either Facebook or an Instagram fan of Steaknight Magazine. THAT'S IT YOU'RE DONE!
You haven't seen our pages??? Well here they are (click the links to visit and follow us.)
Facebook @SteaknightMagazine  Instagram @SteaknightMagazine
One lucky winner will be randomly chosen on April 18th 2017. This gives everyone plenty of time to enter. We must have a minimum of 300 entries for the contest to be valid. Only 1 entry per email address will be accepted. Remember the random winner MUST follow either our Instagram or Facebook page.
Good Luck Steak Nuts!