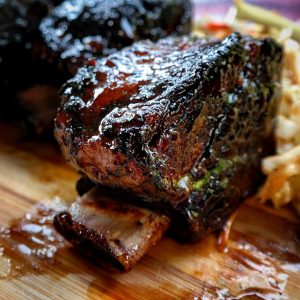 Latley we have been trying our hand at Sous Vide cooking (a little late to the game, we get it) and we have put together a few delicious tasting steaks. But it wasn't until we made these short ribs that we were really sold on Sous Vide. The end result was one of the best tasting ribs dishes ever created at Steaknight Magazine. Unbelievably tender, extremely moist and it had the perfect fat to meat ratio. After some reasearch we decided to cook ours using the Anova Precision Cooker at 158 Degrees Fahrenheit for 18 hours.
Into the bag went our 4 large short ribs about 1.5 lbs, then we added;
• 1/4 Cup Soy Sauce
• 1 Tablespoon Sesame Oil
• 1 Tablespoon chopped pickled ginger and a little of the juice
• 2 Cloves garlic Chopped
• 1 Teaspoon brown sugar
• Salt and Pepper
After the 18 hour bath we removed our short ribs and dried them thoroughly with paper towels, discarding the juices.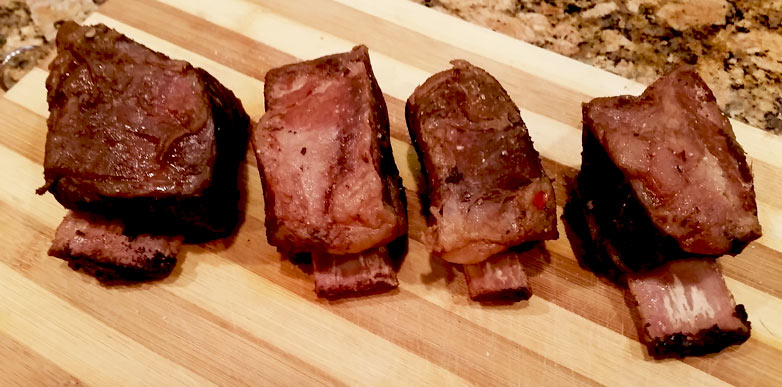 We put about 2 teaspoons of roasted peanut oil in an iron skillet and cranked it to get it scorching hot. Once you see the pan start to smoke then you are ready. Sear the ribs on all sides about 1 miniute per side. (try not to handle them to much as they are already fall apart tender)  Remove your ribs from the pan and turn your heat down to medium cooling the pan slightly.
Then add the BBQ mixture for your glaze;